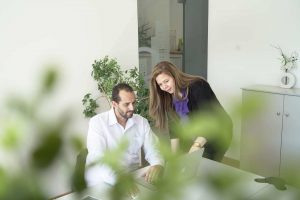 When you own your own business, people are constantly asking things of you, including your own family. Siblings or cousins with children who recently graduated from a graphic design school, for example, may offer their services to design your business website.
It's a good idea to remember the old axiom: Family is family. But business is business. You might want to do your relative a favor, but do you really want your business represented online by a website designed by an amateur?
Customer Contact
In today's business environment, the first point of contact most people are going to have with your business is online. So if they find your website only to discover that it is hackneyed, amateurish, and unhelpful, they aren't going to care who designed it. They will simply move on to somebody else.
You owe it to your business to give it a professionally produced website that is created by a web design company with a proven track record of success. At Lytron Design, we're a family-owned business, too. But we understand that when it comes to making contact with prospective clients, it pays to be all business.
Web Professionals
At Lytron Design, we collaborate with clients to create websites that reflect their distinct personalities. But we also strive to accomplish your specific goals, whether they are to build your online reputation, capture leads, or convince visitors to buy right away. For more than two decades, we have helped hundreds of small businesses achieve their online goals. And we can help you expand the scope and size of your business with a professionally produced website that gets results.
Your business is unique. So your website should be as well. It's admirable to love your family. But when it comes to creating, launching, and maintaining your business website, it pays to leave it to the professionals at Lytron Design.